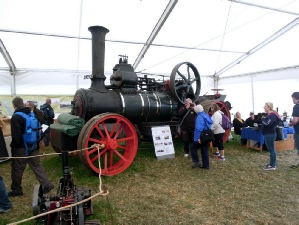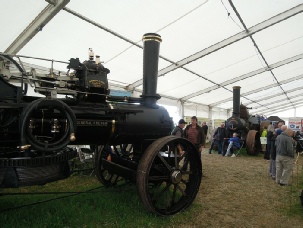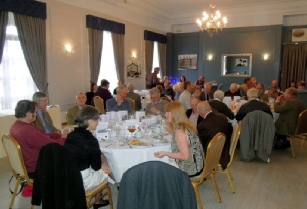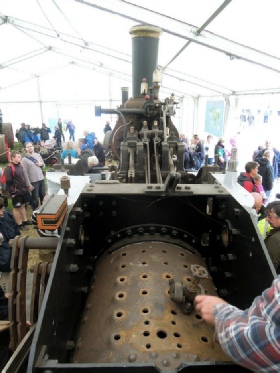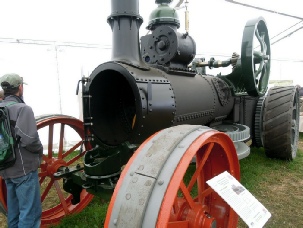 Celebrations at the Great Dorset Steam Fair and at the World Ploughing Championship, Crockey Hill, York and Celebration Lunch
A fabulous 50th


The Steam Plough Club has celebrated its fiftieth Anniversary at two notable events at the Great Dorset Steam Fair on 25 – 29 August and during the World Ploughing Championships held at Crockey Hill, York on 8 – 11 September.
The club created two quite different displays.  The first, in Dorset, mounted a wonderful exhibition explaining the history of steam cultivation from the earliest times.  The National Traction Engine Trust marquee was largely given over to full size engines, some being under construction or repair. There were also models and a most comprehensive series of information placards by Melanie Fisher setting out the story of steam cultivation.  And outside was assembled something rarely seen these days, a full size road train consisting of engine, living van plough and watercart, assembled by Alan Sparkes.
By contrast, the Crockey Hill event really showed what members could do with a truly marvellous collection of engines and implements.  It wasn't all steam either with Fowler motor ploughs and the surviving great Fowler Gyrotiller in evidence.  There was plenty of land available for ploughing and cultivating, and a chance for visitors to try their hand at driving an engine or steer an implement. Harry Williams had his award winning model clip drum engine and apparatus on show. And almost unbelievably there was the hugely significant Smith windlass system released from the Milton Keynes Museum.
I can well believe that this was one of the greatest collections of historical cable cultivation artefacts displayed in history, and most unlikely to be repeated in the near or even distant future.
It is invidious to give credits but I must include Simon and Melanie Fisher for the Dorset exhibition and for Dick Eastwood taking the brunt of the organisation at Crockey Hill.  But above all it was the club and its members that must be congratulated for marking the anniversary in such an unforgettable way.
As my all too short visits ended I could not but think of our old club founder Harold Bonnett and what he might have thought of it all.  He would have been delighted and thrilled, but knowing Harold, not speechless!  
John Billard