The Steam Plough Club was well represented at the unveiling of a plaque to commemorate John Fowler on Saturday 23 June at Ackworth near Leeds. The plaque, now attached to the house in which he died, is but a brief tribute to his achievements which revolutionised agricultural practices during his relatively short life and influenced development for many years afterwards – not only in Great Britain but right around the world.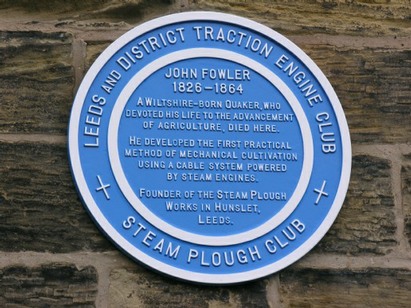 Mike and Andrew Middlewood led the way from the Ackworth school car park along the main road to Prospect House for the unveiling. Mike was driving 16hp BB1 class Fowler ploughing engine No 15155, of 1918 named "Dale". The curtain covering the plaque was drawn by local resident Jon Trickett MP, assisted by Robert Pelly – grandson of Robert Fowler and great-grandson of John Fowler – watched by around 50 spectators.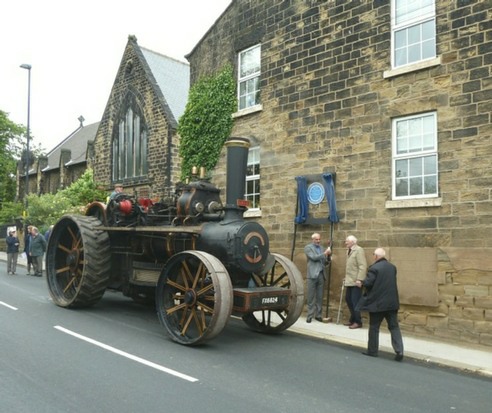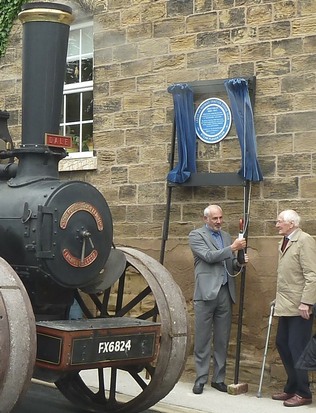 Jon Trickett & late Robert Pelly unveil the plaque Photo: Ian Osborne
The engine then parked in the Ackworth Gala showfield, alongside the Leeds & District Traction Engine Club marquee where a photo exhibition of products of Fowler's Steam Plough Works was on show. Derek Rayner, President of the Club, introduced Jon Trickett and Simon Pelly (Robert Pelly's son), who spoke from the engine's footplate about the influence that John Fowler had on the application of steam power in agriculture, the development of engines and implements, and also of the Fowler family history. Derek wound up the proceedings by thanking all those involved who had made the day so enjoyable.
All pictures copyright Steam Plough
Derek Rayner is to be congratulated on his initiative to raise the plaque, and for establishing the location of Prospect House in Ackworth. Derek and other members of the Leeds Club made the arrangements for the unveiling ceremony, which has been almost two years in the making, and the Steam Plough Club contributed to the plaque costs and wording.
Dick Eastwood    July 2012