Plaque unveiling to commemorate  John Fowler's 150

th

 anniversary
 all pictures copyright Steam Plough Club
To commemorate 150 years since the death in 1864 of John Fowler, the Leeds Civic Trust held an event to unveil a Blue Plaque in the car park of the Costco super-store, Leathley Road, Hunslet, on Thursday 4th December 2014. The Leeds and District Traction Engine Club generously sponsored this plaque which was unveiled by the Lord Mayor, David Congreve. The MC for the event was Lynda Kitching, chair of the Leeds Civic Trust. Derek Rayner spoke on behalf of the Leeds and District Traction Engine Club and Peter Longfoot on behalf of the Steam Plough Club.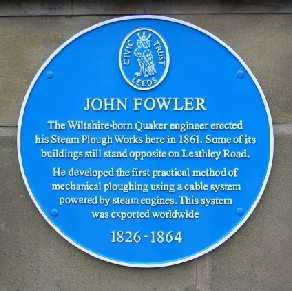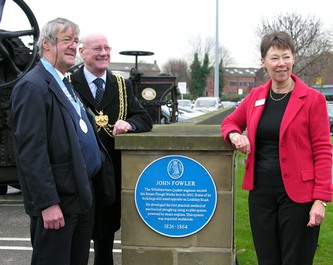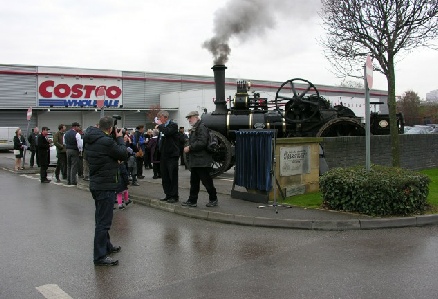 The unveiling was followed by refreshments kindly provided by the management of COSTCO.  
For those visiting the area, the Blue Plaque is next to an engraved plate marking the site of Fowler's Steam Plough Works founded in 1861 and closed in 1974.
In attendance for the proceedings were Guy Debes and Dan Brothwell, supervised by Helen and Hal Debes, with the 1875 Fowler single cylinder ploughing engine no.  2528 "The Chief".
After the ceremony, the engine was taken for a photo-shoot beside what little remains of the Steam Plough Works then driven through the centre of Leeds, to the delight of onlookers, and on to the Armley Mills Museum which is holding a Fowler exhibition for 10 months.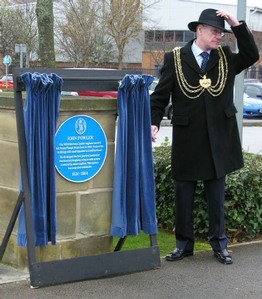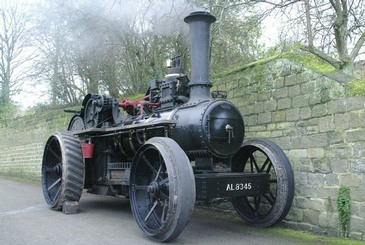 all pictures copyright Steam Plough