The sound of ringing gears passed through Sleaford on 14 June 2014. This was part of a 75th Anniversary commemoration of the closure of steam plough contractors Ward and Dale.  Two of the company engines owned by Mike and Andrew Middlewood returned to the original premises.
The engines drove through the town and SPC Secretary Dick Eastwood welcomed the Mayor and Mayoress of Sleaford with John Ward the firms owners great grandson.John Ward initiated the commemoration and worked hard to make the day a success.
A book has been produced by SPC called "Ward & Dale – a history of the Sleaford cultivators" which was launched at the event.
Later the engines left for a run through the countryside and a steam ploughing demonstration took place the following day.
Photographs were taken at the now derelict Bass Maltings.  This was the resting place of disused engines and implements for many years.
Old Glory August 2014 includes at further description and more photographs.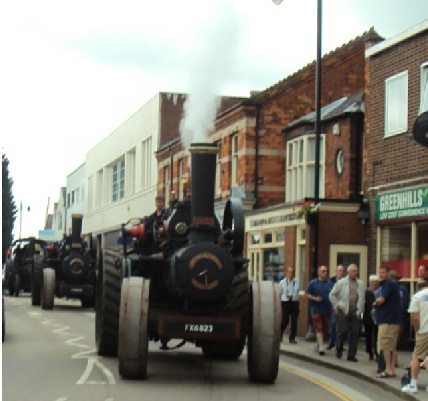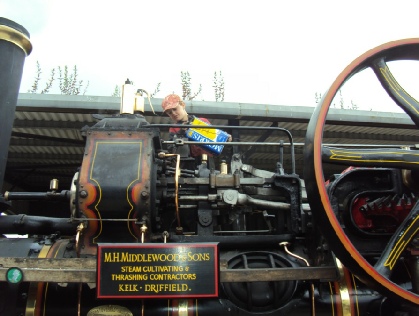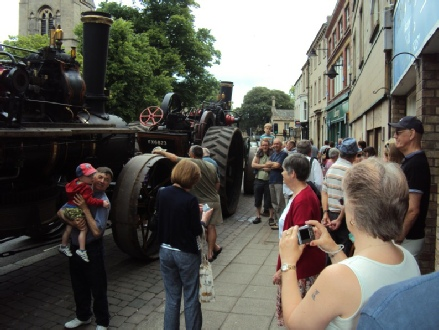 The Book
This publication by the Steam Plough Club marks the 75th anniversary of the sale on 10th March 1939 at which Ward and Dale's remaining ten sets of ploughing engines, implements, living vans and water carts together with the complete equipment of the workshops were auctioned.
The firm WARD & DALE of Lincolnshire was described by Steam Plough Club founder HAROLD BONNETT as the "most famous of all the steam cultivating contractors".
To the best of our knowledge it is the first time that the story of the firm, from its origins to the end, has been collected together in one publication.   
The Foreword is by John W. Dale – great grandson of William Dale. John's family history research revealed the character of 'Billy' Dale and his contribution to the Sleaford community and farming in Lincolnshire, and his search for more information led to involvement by the Steam Plough Club.
Club publications, old newsletters, engine records and archive photographs, together with references from publications by Harold Bonnett, and, newspaper entries and local records form the basis of this 66 page illustrated booklet. Much help and complementary material has been provided by others.
Buy the book on the Club Sales page
The book is reviewed in the August issue of Old Glory