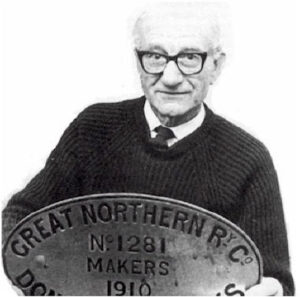 Harold Bonnett, founder of the Steam Plough Club, died in his 92nd year.  He was one of that special group of men who could write in simple language of his wide talents and interests.  He grew up in steam days and as a railwayman it provided his living for nearly forty years. He also travelled widely in North America and southern Africa.
Harold was always a great explainer; via his rally commentaries, or books, or perhaps standing with outstretched hands by a steam plough talking to anyone who'd listen.  He saw his railway engines decline to the scrap yard losing his British Railways job at Paddington in the process. Whilst he had been fascinated by steam engines of all kinds more especially he liked ploughing engines his favourite being the "lovely to look at and wonderful to listen to" BB1 class.  These feelings inspired the acclaimed "Saga of the Steam Plough" published in 1965 and his creation of the Steam Plough Club at the Great Northern Hotel in Peterborough in December of the following year.
Despite his experience as Secretary of the National Traction Engine Club in the 1950s the first two years of the SPC were difficult.  There was little to show and members were slow to enroll.  But he never doubted the outcome.  He considered his aim of getting plough engines out to work in the fields again so worthy that it could not fail to succeed. His timing was just right coming when public interest in the old steam age was at its greatest.  From those early days he was able to witness in October 1998, right at the end of his life, his club organising the greatest gathering of steam ploughs ever seen.
He was born on 12 February 1907 the son of a signalman at Barkston North Junction Box on the Great Northern Railway.  His spark of enthusiasm soon fanned into flame because Barkston was on the main East Coast route to Scotland.  When he was eleven his first paid work was looking after cows on verges and the best place to go was by the railway bridge where there was plenty of long grass.  There were soon no doubts that he wanted to be a locomotive man.
At seventeen he started in the time honoured position of cleaner at Grantham Loco developing an affection for the purposeful "A" class 0-6-0 goods engines but in awe of the firemen and drivers.  These were good times with the introduction of the Gresley Pacifics and Harold saw them in action on trial against a Great Western "Castle".  By 1925 he was a fireman and with it a pay rise from six shillings (30p) to nine shillings (45p) a day.  From Grantham he moved to Hatfield and worked heavy freight to London with 2-6-0s and 2-8-0s ("Ragtimers" and "Tangos") and on one glorious day a "Booster" (Gresley 2-8-2).  But sadly in 1928 an eyesight defect finished his footplate days and after two years as a boiler washer he transferred to office duties at March sheds.
Harold Bonnett's introduction to steam ploughing came very early.  As far as he could remember there were "great ground shaking two engine sets" going past his little red brick house at Barkston.  When his schoolmaster joined the army in 1914 there were no planned pastimes so Harold aged seven or eight was out with the engines whenever they were near the village.  Out of school at four without going home for tea he was off with his friends following the sounds of engines.  On many occasions he did not return home till supper time or later. Thereby he came to appreciate hand and steam getting the job done together thus arousing an admiration that stayed with him all his life.
Ironically it was the internal combustion engine that saw him through his own service days throughout the war. Called up at the late age of 35, typically, Harold Bonnett made the most of his chances. Posted to Canada to maintain aircraft engines he travelled widely on the continent from Vancouver in the west to Los Angeles in the south.  Such was the attraction of Canada in 1944 he bought a plot of land on the Cowichan river in Victoria for $40 with the idea of settling there after the war.  This didn't happen and 45 years later he decided to sell fetching around $10,000 so he didn't do too badly.
In 1940 Harold married Hilda, his wife of 59 years. Hilda was a teacher of English and was able to help him by reading the manuscripts of his books.  They too were able to enjoy their separate interests. Most of their married life was spent in Perivale, Middlesex and later at Bledlow Ridge near High Wycombe.  Following his redundancy from the railway it seemed natural that he should join a publishing house organising exhibitions not retiring finally until he was 67.  Then Harold was able to indulge fully in his major interests of writing, water colour painting and running two engines Fowler compound 10 ton DN class roller 17077 and Aveling and Porter compound 8 ton roller 12074.
His books will always be known for their clear style and a deep knowledge of people and machines.  They included: Saga of the Steam Plough (1965). Discovering Traction Engines (1969).  Farming with Steam (1974). Steam Traction Engines (1975).  The Grantham Rail Crash of 1906 (1978).  Smoke and Steam (1981). Lincolnshire Steam in Camera (1988), and An Erk among the Elks (1998). Right up to the end of his life he continued writing and his Snippets of South Africa 1967/8 is to be published shortly.
Harold Bonnett was a delightful man remembered for his depth of information and a deep throated laugh which concluded most conversations.  Yet he never forgot those early years on the footplate of a Great Northern "Ragtimer" or "Tango".  He said, "There is nothing quite like the smoke, the steam – all the work showing and the engine struggling on at low speed. Those trains were in rhythm with human beings".
John Billard 15 February 1999