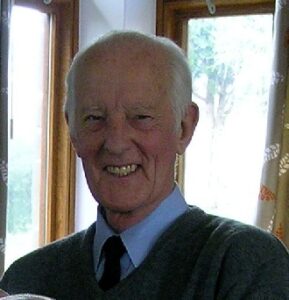 We are very sorry to report the death on 6th March at 81 of Robert Oliver after a long illness.  He was member No 171 and secretary 1974 to 1976, chairman from 1977 to 2006 and editor from 1988 to 2006. On his 25th anniversary in in the post of chairman in 1993 Robert was accorded the title of life chairman which now lapses.
Robert became chairman at a crucial time for the club which at the time found itself in the doldrums in the years after its inception in 1966.  With a new secretary joining him a while later they worked together to invigorate the membership which then rose rapidly. Successes under his leadership included a new Steam Plough Times under the editorship of Bill Padwick, the inauguration of events such as the Great Challenge and Hands On training and turning the annual general meeting into a major social event where on occasion it seemed that almost half the membership attended. Our web site was instituted.  A most fruitful relationship was built with the Museum of English Rural Life, at the University of Reading, which continues.  
Robert had an interest in the historical aspects of the club and spent many years collating engine records from primary sources such as the records at Reading; a work that he painstakingly assembled over 6-8 years. This became a very early application of computerised records for the club. More recently he encouraged further research as he worked on the records with Dick Eastwood to produce the very successful club publications on this subject.  
Regrettably much of his activity was dogged by ill health caused by congenital kidney disease which has affected many members of his family.  He had a successful kidney transplant in 1998 which improved his life greatly.  In 2004 with his wife Helen he left Croydon after many years and set up in Leominster where he became active in local affairs including chairing the Civic Society.  He did much for the things he cared about.
We send our condolences to his family particularly to Helen, his son Michael and his wife Jill, and sister Elizabeth. Without Robert's influence the club would not be what it is today. We will miss him.
John Billard
14 March 2018